Renowned, top quality, best value, identity assured, innovative, traceable and trusted…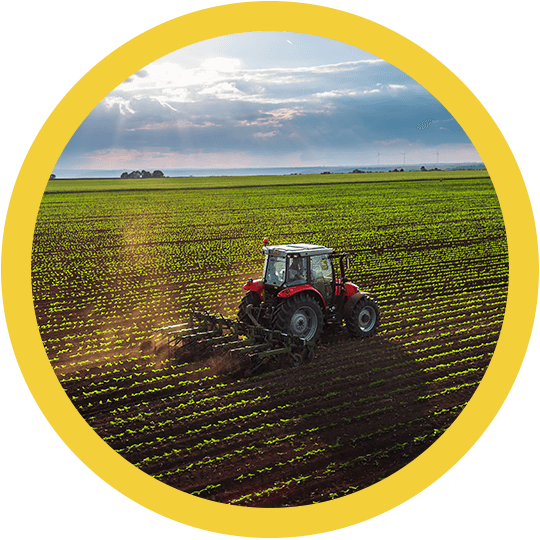 Choose Quality from the Start
Canadian agriculture relies on Certified Seed. Clean, pure seed is the foundation of Canada's reputation as a trusted supplier of high-quality, consistent agricultural products to the world at a time when demand for safe and healthy food is growing.
As a farmer, you understand the importance of starting with high-quality seed to ensure the best possible results. That's why the Canadian seed sector proudly offers Canada's Blue Certified Seed Tag – a symbol of trust and excellence.
When you #ChooseCertifiedSeed, you get what you paid for – pure, clean seed, varietal purity, and high germination.
#ChooseCertifiedSeed
Look for the Blue Certified Seed Tag When Buying Seed
Not just any seed receives the Canadian Food Inspection Agency (CFIA) Blue Certified Seed Tag. It means that seed is Certified as having been grown under stringent, federally regulated requirements and overseen by official CFIA-recognized auditors. Common seed can't make that claim.
The Certified Blue Tag is the mark of trust and excellence from the Canadian seed sector. #ChooseCertifiedSeed
Build On a Foundation of Success
Certified seed is the first thing you put in your field and your foundation for quality food. You can't control the weather, but you can control the seed you plant, and Certified seed gives you the edge. It is the highest quality, most consistent and identity-assured seed available. It delivers predictable, third-party assured quality from farm to fork. 
#ChooseCertifiedSeed for the highest quality, identity-assured, third-party verified seed to set you up for success.
The Best Value for Farmers, Processors and Manufacturers
Traceable, High-Quality Seed for Consistent Results
Farmers who plant Certified seed can be certain of the quality and variety of that seed and other benefits, including marketing power, risk management tools, and access to new varieties. Sowing Certified seed can be the most cost-effective risk management tool for a farmer's business.
Food processors and end users who produce foods grown from Certified Seed know they are starting with the best ingredients available – a foundation of quality foods and a promise they can market to today's food-savvy consumers. Using Certified seed means a seed grown under controlled management practices to deliver uniform yield, texture, flavour, appearance and consistency. What you plant is precisely what you get.
#ChooseCertifiedSeed to open market doors and build consumer confidence.
The Promise of Genetic Identity, Varietal Purity, and Performance
Identity assurance is critical for farmers. It means the seed is true-to-type or has all the benefits developed by the plant breeder retained as it is multiplied up from the original bag of breeder seed. 
When you #ChooseCertifiedSeed, you get assurances on yield, regional adaption, and disease and insect tolerance and are free of weeds, common seed or other seed varieties.
Get the Latest Genetics, Increased Yields, Improved Standability, Disease Resistance and Pest Tolerance
Certified seed provides the latest innovation, increased yields, and improved disease resistance. It means the assurance of starting with identity-verified ingredient characteristics to ensure consistent, high-quality premium products.
Genetic innovation in the seed sector helps address many of the economic, environmental and health issues we face in today's global reality. 
When you #ChooseCertifiedSeed, you choose the most valuable and cutting-edge crop traits in available seed varieties.
Fully Traceable from Field to Fork
You can only be sure of your product if you know its origins, so food safety and traceability are important considerations. Certified seed is the key to that knowledge – the seed is carefully controlled under a quality assurance system right from the beginning. Using Certified seed will allow you to capitalize on traceability measures.
#ChooseCertifiedSeed and confidently deliver on specific food characteristic promises and farm-to-fork traceability to your consumers.
Pure and Clean, With Nothing to Hide
It all starts with Certified seed – pure and clean, with nothing to hide. 
Certified seed is produced by farmers for farmers. Certified seed growers live among their customers – they are their neighbours. They live and work in the same sector. Those relationships depend on trust. Certified seed growers offer varieties they trust to deliver on their customers' needs.
#ChooseCertifiedSeed because, when it comes down to it, the big difference is the amount of detail that goes into it.